Browsing All Posts By
casino_online

November 23, 2016 In a bizarre turn of events on Tuesday, a Canadian newspaper reported that Dubai investment banking firm KBC Aldini Capital Limited denied backing the Amaya ...
READ MORE +
November 18, 2016 NagaCorp, which operates Cambodia's largest and most successful casino NagaWorld has said that it will be launching a third phase in Naga3 which will feature a ...
READ MORE +

November 16, 2016 Turning Stone Resort Casino, which is owned by the Oneida Indian Nation, is spending $20 million to upgrade its resort and casino. Construction has already ...
READ MORE +

November 15, 2016 Despite concerns of criminal charges, former Amaya CEO David Baazov has made an official $3.5 billion takeover offer to buy the online gambling company. Baazov ...
READ MORE +
November 7, 2016 A casino chimpanzee working at Moscow's Casino Kosmos, named John, has died at the age of 24 after being routinely offered alcohol and cigarettes whilst on the ...
READ MORE +

November 5, 2016 In an attempt to lure in millennials, three Atlantic City casinos, Bally's, Caesars and Harrah's will be introducing a first-person shooter called "Danger ...
READ MORE +
November 2, 2016 South Korea's casino industry has been one of the main beneficiaries of Macau's casino industry collapse which was brought on by an anti-corruption crackdown ...
READ MORE +

October 31, 2016 A New York woman had thought she had won the biggest slot machine jackpot in history: $42,949,672.76 – only to be told by casino management that she won't be ...
READ MORE +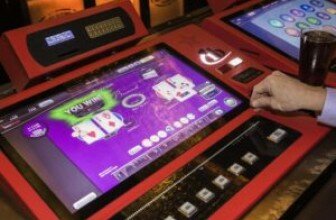 October 27, 2016 Most taverns in Las Vegas offer the same games.  Most bar-top devices are Game Kings with pay tables that return less to players than locals casinos.  Many ...
READ MORE +
October 26, 2016 American bestselling author John Grisham has just released his 29th novel. "The Whistler" talks about the theme of corruption in American Indian casinos. For 25 ...
READ MORE +