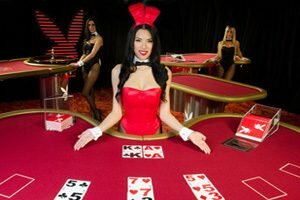 It's fair to say that the online casinos of today are very different to the early online casinos that started appearing on the internet towards the end of the 20th century. There have been many improvements and developments since that time, and playing casino games on the web is incredibly more riveting than it used to be.
One of the most significant developments is without question the introduction of live dealer games. These have added an extra dimension to internet gaming, and it's no surprise that they have proved to be incredibly popular among casino players. They have made the online experience about as close to playing in a land based casino as it possibly can be.
If you've never played live dealer casino games, then you're definitely missing out and need to consider giving them a chance. You can check out our recommended live dealer casinos for the best places to play or read this page for more information on what these games are all about.
List of Top 10 Live Dealer Sites for 2017

What Are Live Dealer Casino Games?
Live dealer games are exactly what the name suggests: games with a live dealer. Basically a human dealer runs the relevant game (be it roulette, blackjack, ect.) on a real table, and all the action is relayed over a video streaming link in real time. You see everything as it unfolds on your screen, with the dealers reacting to your decisions accordingly.
You make all your bets as you normally would at an online casino, and your account balance is adjusted accordingly when you win or lose. You just get to see real live action instead of virtual cards or a virtual roulette wheel. Results are determined in the same way as they would be in a land-based casino rather than by a software program or a random number generator.
What Games Are Available?
The games you can play with a live dealer will vary depending on the casino you choose. The most widely offered games are blackjack and roulette, simply because these are the most popular. Baccarat is also pretty common and many casinos have started to introduce live dealers for other games too, such as Casino hold'em and Sic Bo.
As the popularity of live dealer games shows no signs of declining, it would be no surprise to see even an even wider selection of games with this feature in the future.
Why Play Live Dealer Games?
In practical terms, playing live dealer games is basically the same as playing virtual games. You still get to play from the comfort of your own home, only needing a computer and an internet connection. However, playing with a live dealer is a very different experience. A lot of people enjoy these games simply because they're a change from the virtual equivalents.
Many players prefer them because it makes the whole experience much more like playing in a real casino. You can even chat in real time with the dealer and other players at some casinos. This helps reinstate the social aspect that typically gets lost when playing online. It's still not quite the same as actually sitting at a table of course, but it's certainly a lot closer.
Live dealer games are a great option for those that are perhaps a little hesitant about the fairness of games played online.
Irrespective of the fact that all the leading casinos are fully audited to ensure that they are perfectly fair, some people do fear that the online games are fixed to favor the house. Being able to watch real cards being dealt from a real deck, or a real roulette wheel being spun, is much more preferable for them.
There are a couple of minor downsides to playing live dealer games and, although these won't be a problem for most players, we should mention them. The biggest drawback is the fact that they're slower than the virtual games as the required actions actually have to be carried out by a human rather than a piece of software. The speed difference isn't significant, but it is noticeable. If you like to get in as many hands as possible, then this might bother you.
It's also possible that you might not be able to get a seat at a game on occasion. This is pretty rare, but it can happen. Just like in a real casino, live dealer casinos have a limited amount of space and personnel so they can only operate a certain number of tables at one time. If there are a lot of players online at one time, then you may have to wait for a game. Of course, you can always play the virtual games while you're waiting, so it's not really a major problem.
Overall we would say that the advantages of live dealer games comfortably outweigh the disadvantages. They might not be for everyone, but we would certainly recommend giving them a try. Just remember to use one of our top ranked casinos to ensure that you get the best possible experience.